Monday, August 18, 2008
By Viv Grskop
THE GUARDIAN, LONDON
Monday, Aug 18, 2008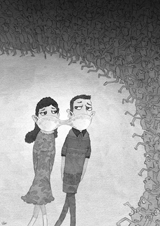 When the plight of children who don't fit 'the pink or blue box' is ignored, it can lead to serious depression and suicide attempts
Should teenagers who believe they are transgender be helped to change sex? And if so, what about the four-year-olds who feel the same way?
"She was our first child," said "Sarah," a mother of two who lives in the south of England.
"But from age three we knew something was wrong. She was very introverted, isolated. When she started school at four she came home and said she was a freak. It seemed a strange word for a four-year-old to use. She was always quite a sad little person," she said.
Sarah's daughter was born and grew up as a boy. Now 19, she is far happier in a woman's body as a post-operative transsexual. It took two years for the family to get used to calling her "she."
Sarah said her daughter experienced her childhood as mental torture, especially during puberty.
"Looking back, we could never find any tape in the house. It was because she was taping her genitals up every day. She said to us later that she thought it would all go right for her at puberty, that her willy would drop off and she would grow breasts. She said she was going completely crazy because she knew in her head that she was a girl," Sarah said.
. . .Read More
Posted by

Rebecca Auge
at Monday, August 18, 2008